Hello, and thanks for visiting Cozy Foodie!
Here's a little "flavor" of who I am… an adventurous home cook… CDE (Chief Domestic Engineer) of Hendrikse, Liu, and Progeny… homeschooling parent since 2007… lucky to live in the San Francisco Bay Area… learning to blog and blogging to learn.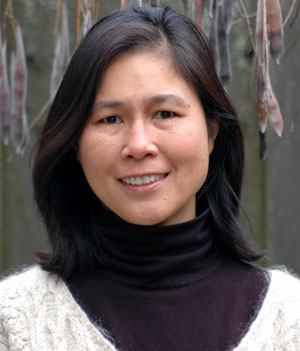 Cozy Foodie is my place to share food-inspired writing: recipes, tips, recommendations, fiction, traditions, and thinking about food history, culture, and politics. Since I'm an omnivore both literally and metaphorically, I think one blog can handle hearty and filling stews as well as lighthearted confections. Food and cooking — and Cozy Foodie — are pathways to expressing or exploring my relationships with family, community, country, and the planet. I look forward to having conversations and exchanging ideas sparked by the basic necessity to fuel our bodies!
Rather than simply making a virtue out of the necessity of cooking for myself and my family, cooking has been a hobby and a passion of mine for about 25 years. I love trying new ingredients and recipes to use familiar ingredients in new ways. For everyday cooking, my priorities are to make delicious, seasonal, budget conscious, healthy, and nutritious choices. For special occasions, delicious and seasonal rule the day! Bring on the butter! I prefer dishes with beautiful, bold flavors, casual presentations, and — particularly these days as a busy parent of two active teens — short(er) active prep times. I am often inspired by Asian, Mediterranean (European, Middle Eastern, and North African), and Latin American traditions, but I'm not a stickler for "Authenticity." I happily embrace recipes of any cultural tradition that fit within my priorities, needs, and desires.
Not content to focus only on what I'm putting on my table, I also think and write about my choices in relation to the larger context of history and culture, the politics of the United States, and the environment of our planet. I share how I square my ideals (imperfectly) with the realities of budget and time constraints and the range of personal preferences of each member of my family. My goal isn't to finger wag or to get all tree-hugging or New-Agey, but to offer information and insights that I think are interesting or important, to share how I struggle with these issues, and, hopefully, to engage my visitors in conversations about these topics.
In short, I hope that Cozy Foodie is like my ideal meal. It's about the food as much as the people I share it with. It nourishes the body and the spirit, it welcomes family and friends to relax and stay awhile: share stories and conversations, argue and compromise, celebrate and commemorate. Welcome!
Drop me a line: what drives your food choices? what would you like to see more of on Cozy Foodie?
— Sandra